House of Chauvlin
A downloadable game for Windows
Story
Ah, the eccentric Dr. Chauvlin. Rumor has it he discovered extraterrestrials living on another planet. He was planning to visit them before his#sudden death some say. He had hidden a rocket ship inside the old Chauvlin Manor, waiting for the next time Friday the 13th would align with a full moon, the only time that the house would#be perfectly aligned with his destination. While these claims were never proven, one could wonder...
Controls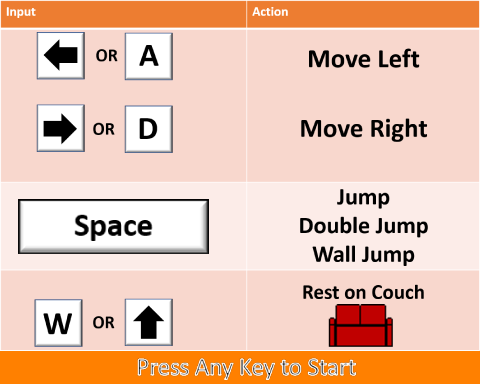 Credits
The game was made in the span of 72-hours for the Fall 2019 DeSales Unniversity ACM Chapter Game Jam. All, music, art, story design, level design, and the physics engine were created by Lucas Acosta-Morales. Made with GameMaker Studio 1.4 and GameMaker Studio 2. Music Composed with Bandlab.
Install instructions
To run this game, simply extract the files from the zipped folder and run "House of Chauvlin.exe"